Like so many other sectors, the COVID-19 pandemic has had a profound and immediate impact on the visitor attractions industry in Scotland. ASVA have been working closely with the Scottish Government, VisitScotland and other industry bodies to not only establish the scale of the crisis, but to identify the support that is going to be required to help our sector emerge successfully through the other side, whenever that may be. 
The confidence of ASVA members has been severely affected in the short, medium and long term. Our most recent membership survey, undertaken in early May, indicates that one third of attractions are facing business insecurity for the next 3 months, while over two thirds say they face an uncertain future beyond a year. Fewer than 1 in 10 attractions feel absolutely certain that their attraction will emerge from the crisis, providing a clear statement that this is not an issue affecting the few, the future of our entire industry is at stake.  
The key issue is that we are facing up to the reality that many attractions are looking at going through an entire season with little or no income. It will be extremely difficult to maintain operations through the off-season and invest in new products and services. We have to recognise that, in these circumstances, it is highly likely that some attractions will not survive. Those that do are likely to face increased accumulated debt, reduced budgets with lower staffing levels, inevitably impacting on quality.
On the positive side however we know that many attractions have taken and are taking steps to adapt and innovate their product. More and more attractions have enhanced their online offerings, creating new ways for consumers to interact with their attractions online. This has actually opened up some sites to a whole new audience, with younger consumers in particular virtually visiting attractions that they would not otherwise have considered even looking at. This can give us some cause for optimism looking forward. With so many more people consuming our offerings online, there is definitely an opportunity to sell our experiences to a new and receptive audience, an audience that will be keen to get out and explore their country when the lockdown is lifted. Local visitors and the domestic market will be crucial in the early phases of recovery, and attractions will play a huge role in inspiring and encouraging these consumers to get out and engage with Scotland.
The importance of our industry in Scotland cannot be over-stated. Attractions are key employers in many rural and urban communities and are the main economic drivers for many communities, bringing visitor to areas where they then experience local bars, restaurants, hotels and shops. It is also important to recognise that attractions perform a key role in preserving and presenting our culture, history and heritage, as well as maintaining some of our most beautiful landscapes. It is therefore essential that our sector is supported through the COVID-19 crisis, as there is no doubt attractions will play a key role during the recovery, both from an economic and cultural perspective.
It is difficult to be precise about the timescales of recovery in Scotland, especially as we do not know what the impact of social distancing is going to be on our sector when reopening starts. Looking at forecasting from within the sector, we are looking at an initial period of three months plus where our sites will be generally welcoming local (Scottish) visitors, with a period of five to twelve months where consumer confidence will see the rest of the UK venture to our sites and over a year before we are likely to see an substantial return of international visitors. Outdoor attractions are most likely to be one of the earlier groups to have restrictions lifted so parks, gardens and zoos could be one of the first beneficiaries as consumer confidence returns. Expectation management will be vital throughout all stages of recovery however, as visitor numbers are going to be significantly lower than 2019, both because of consumer confidence and because of the impact of social distancing restrictions.
Consumer confidence is likely to remain affected after lockdown is over and for some time after that, therefore visitor numbers will be well down on a typical year. As a result, it will be essential that ongoing support be given to the sector during this time and extended beyond the lockdown until business returns to a semblance of normality.
Our strategy in the industry is focused on ensuring we have as vibrant and attractive product in place for when recovery kicks in. At ASVA we continue to inform our members about the various support packages currently available to support the industry through this difficult time, as well as providing inspiration through our series of webinars on topics such as how to exceed visitor expectations in the post-lockdown landscape. We also continue to engage with our members to garner information about how the crisis is impacting individual businesses. The information we have received from members has been directly shared with the Scottish Government and has helped to shape our discussions about the level of additional support that is needed to safeguard our industry in the long term.
I am confident that our sector will emerge from this crisis intact and we will undoubtedly lead the recovery, not just of the tourism industry, but of the whole Scottish economy. We have very passionate, highly skilled people working in the industry, and we are a very resilient and innovative sector. We have faced challenges in the past and, no doubt, will do so again in the future. By working together with a spirt of openness and collaboration, we will come out of the other side with a renewed sense of purpose and vigour. It may look dark just now, but it is always darkest before the dawn…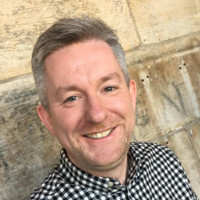 Gordon Morrison is the CEO of The Association of Scottish Visitor Attractions (ASVA), the trade body responsible for representing and supporting the Attractions sector in Scotland. A well known face within Scottish tourism, Gordon previously worked as Quality & Tourism Manager with VisitScotland, where he was responsible for the delivery of highly regarded Visitor Attraction Grading Scheme, and as Commercial Manager with Museums & Galleries Edinburgh, where he led on shaping the visitor experience at iconic attractions such as the Scott Monument and Museum of Childhood. In over 14 years of working with the sector, Gordon has visited hundreds of different attractions all across Scotland. He does have a favourite attraction of the hundreds he has visited, but he refuses to reveal which it is for fear of membership rebellion!