Newport, 13-14 March 2024
Programme
Growing and Developing Income Streams
Now more than ever is the time that arts, cultural and heritage organisations need to maximise commercial opportunities.
Our programme features great examples of resilience, adaptation and implementation of new ideas across the sector, with tangible takeaways that you can put into practice at your own organisation.
Scroll down to see the Programme so far – lots more still to come so keep an eye on this page for updates!
Speakers include (clockwise from top left): Amy Akino-Wittering, Young V&A; Nik Wyness, Tank Museum; Samantha Potts, Royal Opera House; Conall Borowski, Little Angel Theatre.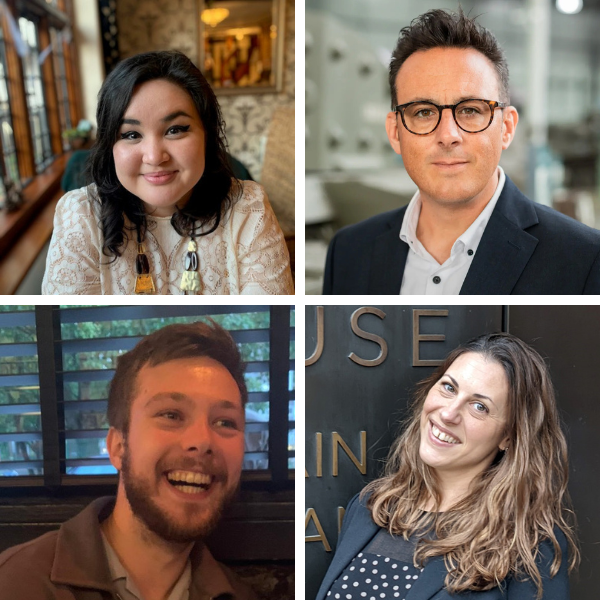 Conference Sessions
Young V&A is the UK's first national museum of art, design and performance designed entirely with and for children. Discover how a new approach to recruiting, inducting and managing the FoH team helped create the world's most joyful museum experience. From staffing models to local outreach and recruitment, CV surgeries and an intensive tailored induction, Amy and Kirsty will share the successes and challenges of creating this new operation.
NMRN operates in-house visitor catering across five sites and pre-pandemic was making a loss. The team had to go back to basics to operate efficiently and generate a profit. Emma will discuss how to create and implement a successful strategy by going back to basics, including quick wins for organisations with limited resource. Discover why in-house catering needn't be viewed as daunting!
In this session you'll learn how an entry product ladder was created at the British Motor Museum, with the aim of increasing appeal and introducing greater variety in terms of price point. This includes a free monthly event that attracts over 1,000 visitors, Premium Membership and a range of products and entry prices in between. Toby will share the reasons why both the free and premium events have been wins for the museum and discuss the impact on visibility and visitor numbers.
Enterprise requires creative solutions to problems. Cultural institutions are full of creative people. How do these things work together? Using the development framework of a successful Birthday Party package this session will take an alternative look at approaching enterprising opportunities. Conall will offer tips on how to best utilise creative people to be responsive to demand, develop products and generate revenue which can be applied in a variety of settings.
The Inspiring People project transformed the NPG, with a complete re-presentation of the Collection and a significant refurbishment of the building. A new Front of House team was required to launch the gallery and embody the NPG's vision and values. NPG partnered with Complete Works to recruit and train the team, developing a Visitor Charter to underpin the work and ensure that NPG's values were embraced by every member of staff and extended to all visitors. Jack and Bala will share how they created a team all about people, full of life and passionate about portraiture.
A look behind the curtain into the positive practices of theatre and arts venues which museums and heritage venues could understudy. From visitor experience and operational excellence to audience data and language, this session will look at what museums can learn from the arts. Having moved into the heritage sector after almost a decade in theatre, Corey will provide insights, learnings and observations.
Royal Botanic Garden Edinburgh took venue sales back in house post Covid. Previously their catering partner was responsible for both retail, catering and the full hospitality offer – from selling the venue to event design and operational delivery. This talk will cover the reasons why the team decided to go down this route, the pros and cons of doing so, the learnings to date and future plans.
Discover how to elevate your commercial hires offer on your website by selling the experience, learning how to stand out from the competition, and how to tell compelling stories that show what makes your space unique. The goal is to create compelling user journeys that deliver leads, conversations and ultimately convert into sales.
Teresa will explain how Russborough's retail offer has become an integral part of the visitor experience as well as contributing significantly to income. Products have been carefully curated to maintain a relevance with the mission, collection and place, resulting in a 300% increase in shop turnover within the first year of trading. This session provides valuable, practical information for any destination grappling with their retail offer, including how to appeal to a wide variety of customers while remaining true to the ethos and spirit of the place.
Learn how to spot upcoming trends, find makers, and support them in creating fresh design for your shop. By launching a makers' mentorship programme, the Fruitmarket team learned a lot about how valuable developing bespoke lines for the shop was to their audience and identity. By extending Fruitmarket's 'put the artist at the centre of what we do' mantra into the shop they created a meaningful and profitable space for viewers to support the gallery and its artists.
Susan will explain how Liverpool harnessed the power of TikTok, one of the most influential brands in the world, to accelerate its destination positioning and support the growth of the visitor economy at a time when its reputation was open to scrutiny. This session will educate those who want to be bold, take a risk and change perception in how to approach this and the benefits that it can bring both economically and educationally.
This session explores the new public tours of Big Ben, looking at the challenges of planning, designing and installing a new permanent exhibition in one of the world's most iconic buildings in the middle of a global pandemic, and the journey to reopening. This talk will be particularly relevant to visitor experience managers.
This session will explore the process of sourcing, manufacturing and retailing sustainable clothing at North Yorkshire Moors Railway, highlighting the challenges encountered along the way and the innovative solutions implemented. Based on this case study, Nigel will discuss strategies for effective change management, stakeholder engagement, and the integration of sustainability into core business operations.
Chatham Historic Dockyard Trust's entrepreneurial business model comprises up to nine income streams, ranging from rope making to an historic film location, museum, residential and commercially let estate as well as hospitality venue and pro-active fundraiser. Olivia will explain how being a mixed-use estate has enabled the charity to become self sustainable, with insights into the challenges which come with managing a mixed heritage estate, as well as an overview of the business model and future plans.
Lucy will explain how Leeds Castle sought to recover post Covid through the development of their holiday accommodation portfolio, making the most of the British 'staycation'. This session will look at the design, build and installation of four new Lakeside Lodges launched in October 2023, opening up the castle bedrooms on a B&B basis and plans for the future, as well as some of the lessons learnt along the way.
Neuroeconomics helps us to understand the factors that influence an adult's decision to make a purchase. In this interactive session, Mike will explore how to influence your visitors' decision making process, and how you can do this at zero cost.
Wake The Tiger is the world's first Amazement Park®, an immersive art experience that has captivated audiences of all ages and backgrounds since its launch in July 2022. With over 175,000 tickets sold and a turnover of £3 million in less than 10 months, this groundbreaking attraction has become a symbol of creativity and amazement for Bristol. This session will explore the unprecedented challenges faced by the team and the strategies used to overcome these hurdles.
Lilidorei at The Alnwick Garden opened in May 2023 and centres around imaginative play, including the world's biggest play structure. Ian will explain how the idea was brought to life, including marketing and communication strategies, and how they balanced the construction and development of Lilidorei whilst being filmed for a TV documentary, as well as how income from the attraction supports the charity's work in the local community. Matthew will share how immersive and creative retail and catering has been key to Lilidorei's success. From troll snot ice cream to birthday parties, catering and seasonal change, you'll see examples of how creative and immersive products can increase income, with some tips and tricks along the way.
Over the next two decades the Wentworth Woodhouse Preservation Trust (WWPT) will deliver a £200m regeneration project at the Grade I Listed site in Rotherham, an area of high economic and social deprivation. WWPT creates opportunities for income generation, skills training, youth engagement and job creation by working in partnership with the film industry. Its YouTube channel has over 150 films made in -house, providing paid work for young people, as well as creating a digital archive and advertising income. Sarah will explain how all this has led to even wider growth.
Putting 11 giant inflatables in an Art Gallery, what could go wrong… but what could also go right? In this session Katie will take you through the process of planning an event programme the like of which Tullie House had never seen before, along with the outcomes, success and challenges faced along the way.
2023 was the 100th anniversary of Flying Scotsman, the world's most famous steam locomotive. The centenary was the first project in the Science Museum Group to be led and delivered by the commercial department – and it's been a resounding success! Discover how to get a museum object into Hello magazine, how to sell out your first print run of books just in time for Christmas (not recommended), and how to convert brand licensees into event sponsors. This session will provide insights on how to capitalise on anniversary events and take risks.
In 2022 the Royal Opera House embedded a new volunteer scheme that has increased commercial opportunities and enhanced visitor experience. Georgia and Sam will share the benefits and challenges of engaging volunteers alongside paid staff in FoH roles, the process of setting up the new scheme, lessons learned, and the value that good practice in volunteer management brings to visitors, staff and volunteers alike.
Regenerative retail is about creating better conditions for the environment and for the community. It's time to step up and heal the damage that's already been done! Yolande will explain how to create a healthy business model for you and the environment with products that align with the mission of your venue.
This session will discuss the methodology used to buy a book range reflective of your audience needs. It will cover publishing, partnerships, storytelling, range planning and promotion. With insights from the National Trust and trend analysis of the wider books business, you'll leave this session inspired to further develop your own audience-led books offer.
Learn how to use smart devices to enhance visitor experience and drive revenue, while still allowing the in-person experience to speak for itself. Simon will examine the possibilities including the creation of your own visitor app, utilising AI and creating compelling user journey that deliver relevant and personalised content at the right time and place.
Discover how the Tank Museum is reaching a global audience of millions with quality, homemade educational video content which is feeding an online ecosystem that now generates more than 25% of the museum's total turnover. Nik will share the blueprint that cultural venues can use to benefit from a 21st century means of delivering charitable benefit and raising funds in the Creator Economy.