I was delighted recently to attend the first Association for Cultural Enterprises Study Day of 2020 held at the London Transport Museum in Covent Garden, where the focus of the day was Profitable Venue Hire. My role as Programme Manager of the Cultural Enterprises Academy means I don't experience these events frequently, so it was fantastic to be amongst such a huge number of diverse cultural organisations who had travelled from near and far to learn more about this increasingly popular topic.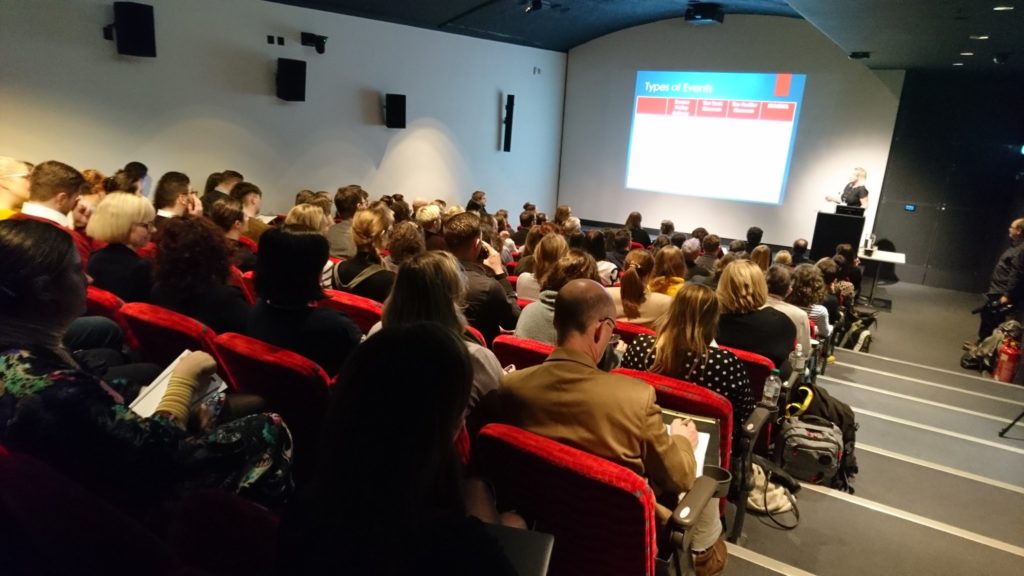 Looking at the spectrum of attendees and speakers, from major pillars of the national cultural community to many and varied independent regional attractions, it was clear that we ALL had something to give and something to learn from sharing our experiences. Throughout the day, as well as networking, we welcomed six fantastic speakers,who gave valuable insights on the successes and challenges they had faced in their roles.
A number of significant points kept grabbing the headlines during the day. The main takeaway for me was the growing importance of sustainability, and the need for venues to have a clear policy on how they operate. Clients are pushing this issue higher in their wish list when looking at venue hire, and it will soon be something that all organisations will need to address. Whilst sustainability is clearly a crucial issue on a wider scale, it can also provide opportunities for improving your offer. Demonstrating your organisation's environmental commitment to potential clients can be part of your USP, if you are forward thinking and engaged with the right partners.
Daniel Caleb, Event Spaces Manager of the Wellcome Collection offered some excellent examples. He spoke about their catering relationships with local environmentally conscious businesses Hej Coffee and Waste Knot, and their involvement with the company Winnow, who help to monitor and reduce food waste from events. Even small steps like swapping traditional print for digital can show your commitment to the issue. Whatever your current position, having a clear sustainability policy for your organisation and venue operations will soon become essential.
Another significant theme of the day, and one of the main purposes for gathering, was 'maximising profit'. Our first event speaker Helen Smith, General Manager of Severn Valley Railway gave some insights into her approach. One notable piece of advice was to create a P&L for every event, so that you build up a valuable financial resource which ensures you are charging correctly every time. Whilst initially time consuming, this system ensures you maintain consistent margins and can forecast growth with confidence.
Robert Wetherell, Head of Events & Catering at the Natural History Museum added excellent advice for all venues, regardless of size, when looking to grow profit.
Look for opportunities around new activity in your venue, eg. exhibitions or performances which can tie in to events
Upsell wherever possible – include out of hours options, tours and unique venue opportunities
Control your costs – especially on staffing and suppliers
Amy Senogles of Salford Community Leisure and Rachel de Ridder from Chinese Centre for Contemporary Art gave great personal case studies, both working in smaller venues and facing the challenges of taking an offer and making it profitable and successful. Again, controlling costs was a huge factor for both speakers, who talked about the challenges of their buildings, outsourcing catering and their plans for building future business.
The topic of promoting your venue hire offer was addressed by all our speakers. It may seem obvious, but do ensure your website has the following
good quality up to date venue photography
essential information, eg: contact details, space dimensions and AV hire
an easy to use booking system – even if that means a monitored inbox
Smaller venues found that attending trade fairs proved lucrative and gave great ROI, whilst signing up to a wedding directory website is a great way to get your information out to a target audience. Both Phil Smith of the SS Great Britain and Daniel Caleb from Wellcome Collection also advocated networking within your sector as a fantastic way to get recommendations and share information with peers.
Our delegates hopefully left our study day brimming with new ideas to try and a renewed enthusiasm to promote their venue. After a day of listening, learning and sharing it certainly seems that collaboration and pooling knowledge leads to stronger business ties, more opportunities for growth and an enriched, thriving cultural sector.
Lucy was previously Head of Development and Communications at the Menier Chocolate Factory theatre in London. She works freelance as a Producer and Consultant in the arts and is currently Programme Manager of the Cultural Enterprises Academy.