Located in Lewisham Shopping Centre, the Migration Museum is uniquely placed to share its stories with the local community. A new exhibition about migrant entrepreneurs was the perfect opportunity to launch a new retail concept, the Migrant Makers Market, creating a platform for an exclusive range of amazing products made by migrant-led businesses and creators.
The Migrant Makers Market has resonated with makers and visitors alike, not to mention our very own Conference delegates who voted the Migrant Makers Market winner of the People's Choice Award at the 2023 Cultural Enterprises Awards, where it was also shortlisted for Best Range.
Products for the range were selected from up and coming makers, designers and artists, each with their own migration story, and showcased in a market-style display area in the museum shop designed by Lewisham-based spatial designer Lucy Sanderson.
A 'maker space' was also created to host workshops run by featured artists and makers, from jewellery making to coffee masterclasses and hot sauce tasting.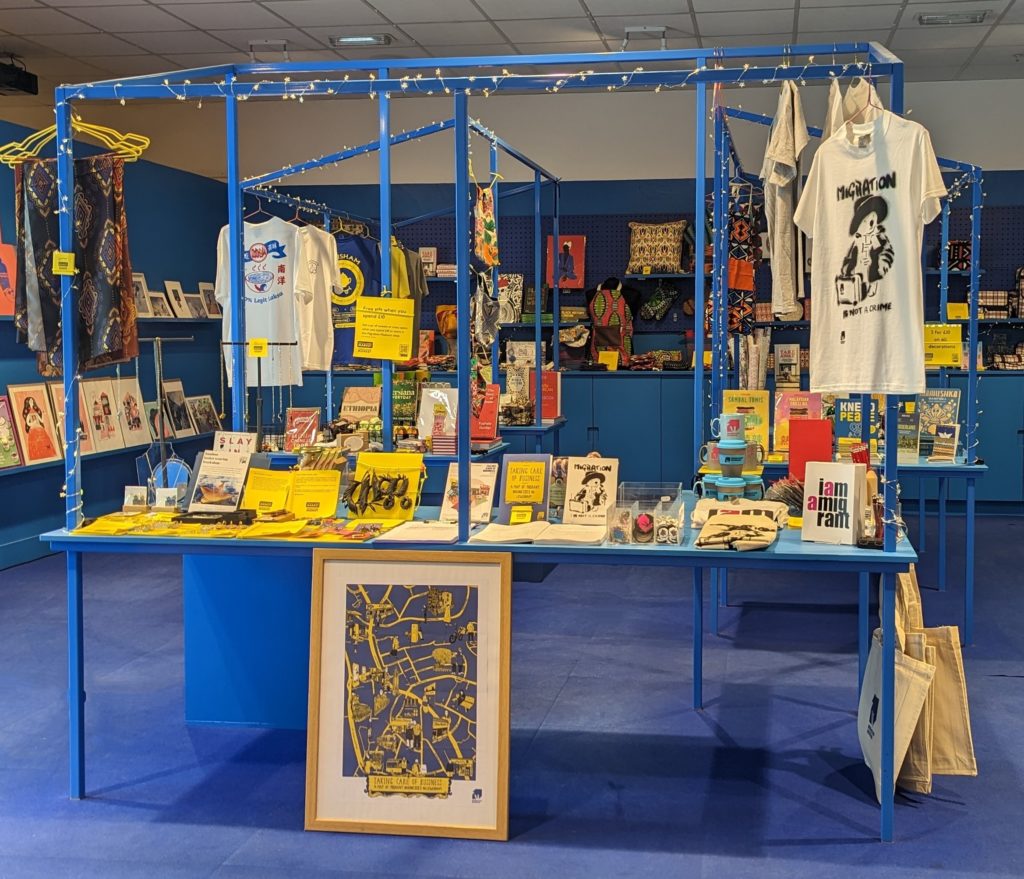 The range has so far seen total sales of £26k, which equates to 38% of total shop sales. It helped to drive a strong Christmas performance for the shop, with sales across November and December 187% up on the previous year.
Katy Clinch, Retail Manager at the Migration Museum, tells us more about the story behind the Migrant Makers Market: –
"While 14% of UK residents are born overseas, 49% of the UK's fastest growing businesses have at least one foreign-born co-founder. We made it our business to showcase some of the UK's most exciting migrant entrepreneurs with a new shop range to accompany our 'Taking Care of Business' exhibition, which highlights the role migrant entrepreneurs have played in the making of Britain.
"The Migrant Makers Market range is both commercial and a series of exhibits in itself – every product featured has a rich migration story behind it. From bold African prints by Bespoke Binny, to Scottish-Chinese fusion art by Sarah Kwan, through to jam made by asylum seekers at the nearby Refugee Café, it's very inclusive and blends seamlessly with our museum.
"To elevate the range further and offer something truly enticing to passing shoppers, we did an open call out to local designers to create a display installation that would reflect the vibrancy of the range and deliver a 'market-like' experience. The winner, Lewisham-based designer Studio Lucy Sanderson, came up with a deconstructed market stall concept, with everything painted in Lewisham blue – brilliantly reflecting the fusion of global and local in our range.
"Our products span many categories including food, art, clothing, accessories, jewellery, toys and toiletries – there really is something for all our visitors. We've chosen makers that represent many communities of migrants, making sure we include local businesses, and picked products that are strongly design-led to fit in with our museum approach of collaborating with artists to help tell stories of the past.
"Many of the products have a great sense of humour. Suppliers such as The Steam Room, Sarah Kwan and Fool of a Kind all engage playfully with the makers' experience of being from a migrant background and the range has been enormously popular with younger people.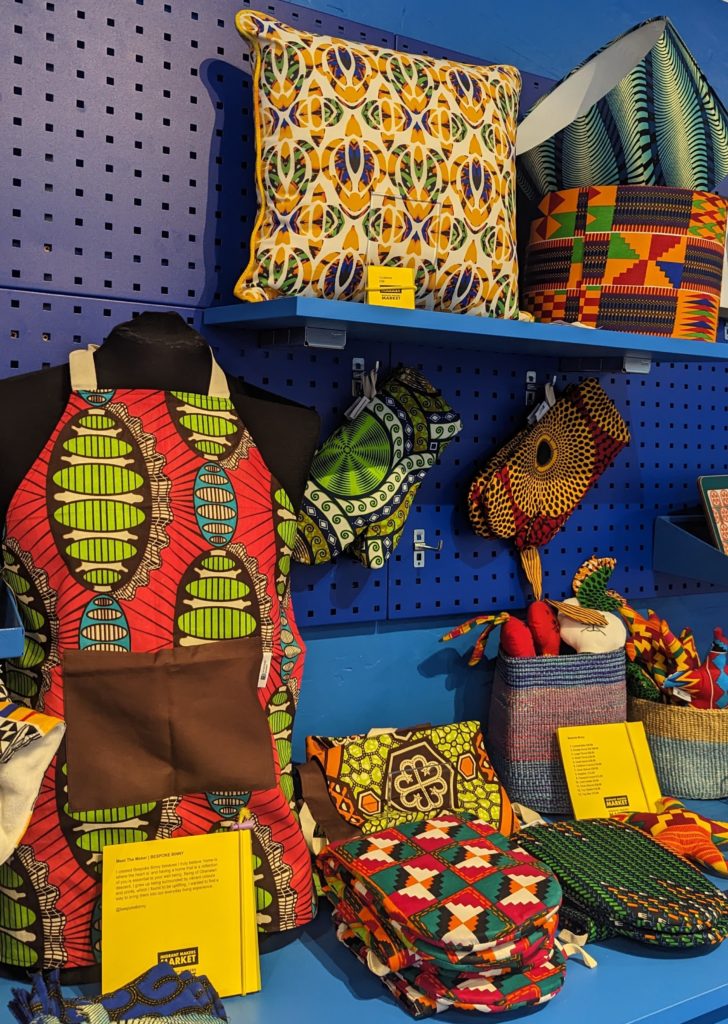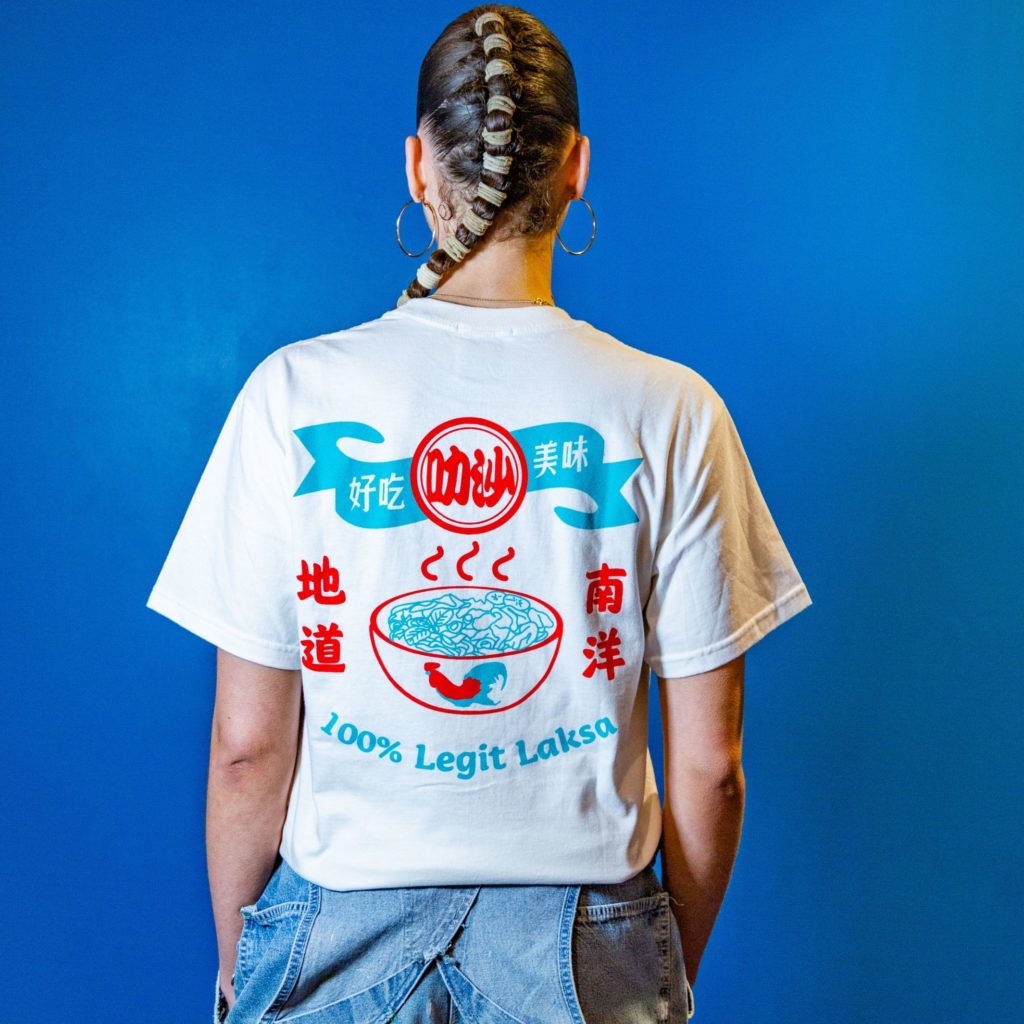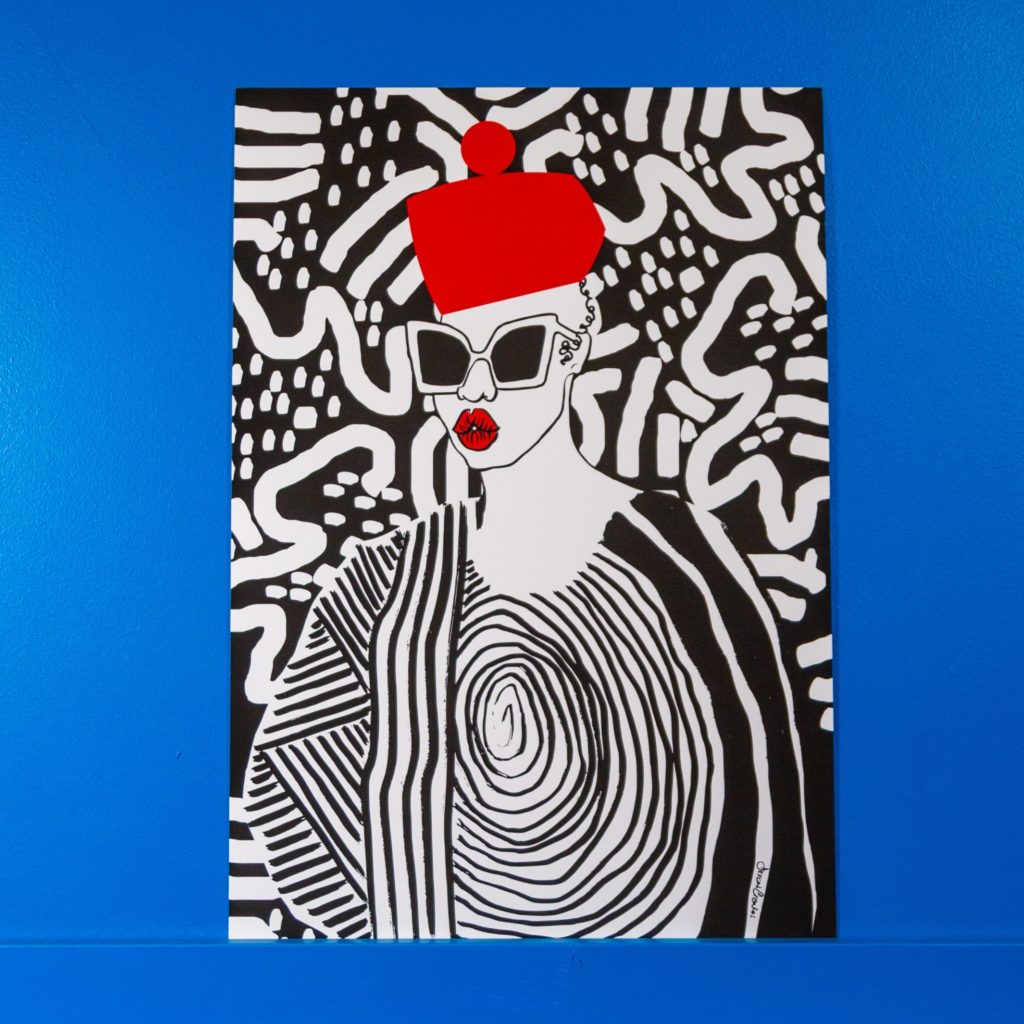 "We've worked closely with suppliers such as Dorcas Creates to carefully curate the selection of products, adding stationery, jewellery and an illustrated book to her inimitable bold and joyful prints. Our relationship with the Refugee Kitchen, which is local, has also developed and they catered one of our major events last year. The feedback from customers has been fantastic.
I love the Migration Museum – the history and of course the Migrant Makers Market, full of little wonders and quirky gifts.

A happy visitor, 2022
"We wanted our suppliers to feel part of our museum community, as well as offer our community the opportunity to see behind the scenes and get creative themselves, so we constructed a dedicated 'maker space'which suppliers have used to deliver workshops including carnival accessory making, harissa making, food talks and jewellery making.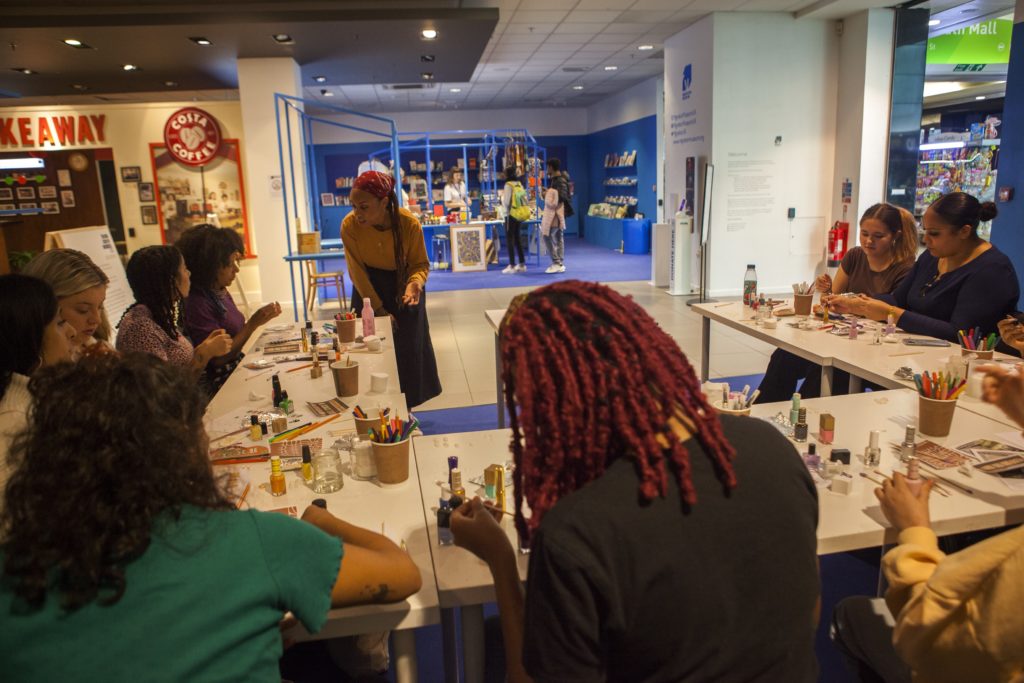 "We've also posted the makers' stories on Instagram, with links to their products, and featured them on our online shop to help them reach a wider audience. Our suppliers have really appreciated our support.
"For example, prints by Sarah Kwan (pictured) have been strong sellers for us and so we've increased her product range. In return she has given us early access to her new designs.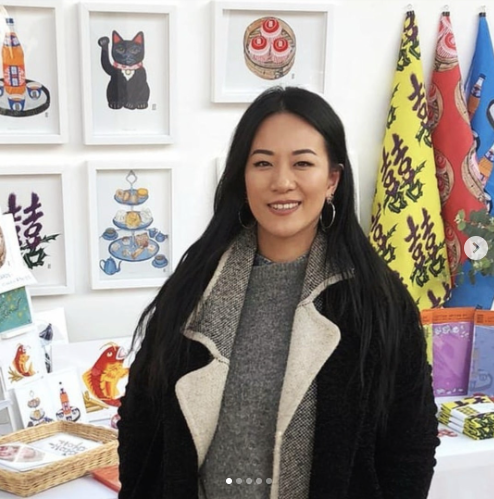 I'm so pleased to be part of this vibrant community of artists and makers. It means so much to be supported by the Migration Museum which does so much to amplify our voices.

Sarah Kwan, Artist
"It was a huge honour to accept this award on behalf of everyone at the Migration Museum and the brilliant makers we work with. Creating the range was a team effort, but this award really belongs to the Migrant Maker businesses who've worked so hard to design and make these products – it's wonderful to have their effort and talent recognised by the cultural sector."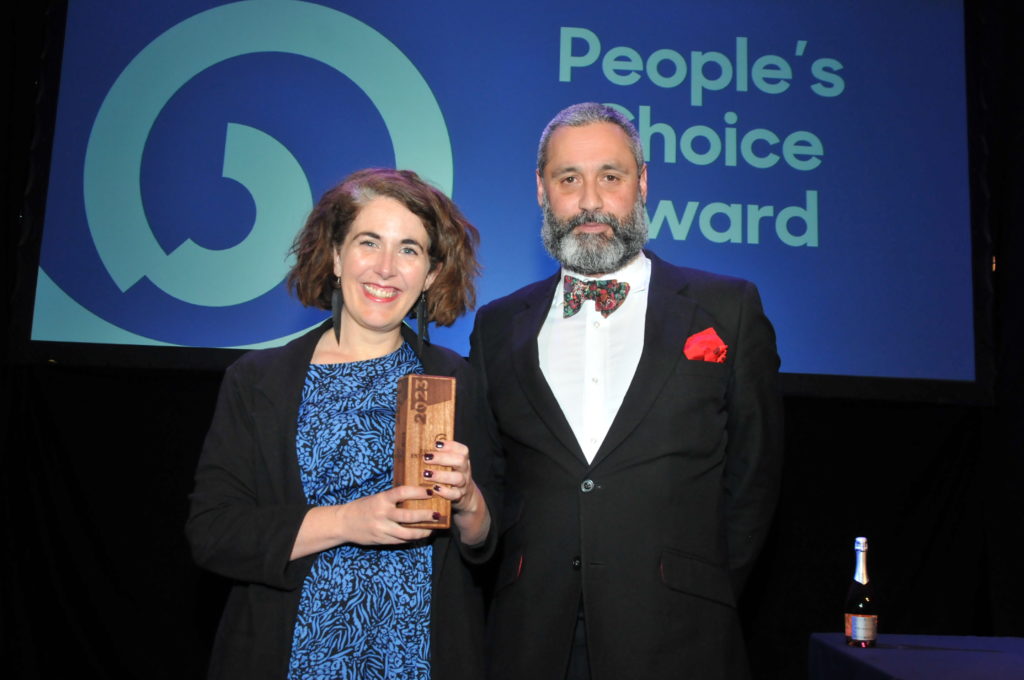 You can explore the Migrant Makers Market range in store at the Migration Museum in Lewisham (you can find out the museum's opening hours and plan your visit here), or via the Migration Museum's online shop.
The Migration Museum will be based in Lewisham Shopping Centre until at least 2025/26. Longer term, it has received planning permission for a permanent home in the City of London, close to Aldgate and the Tower of London. This will be allied to a network of venues across the UK.
Find out more about the Migrant Makers Market and the Migration Museum.
Suppliers involved in the Migrant Makers Market: Arcilla Joyeria – Handmade Jewellery; Sarah Kwan – Artistic Prints; Bespoke Binny – Homeware; Dorcas Creates – Artwork & Jewellery; Wynderush Legacy Collection – Cushions & Accessories; Fool of a Kind – T-shirts; Goodordering – Eco Backpacks & Panniers; Hafza Studio – Scarves; Haven Coffee – Coffee; Hokolo – Designer, Homeware; House of Bilimoria – Sustainable Children's Clothing; Isura – Jewellery; Kaji – Headwraps; Laugahey – Earrings; Lamiri Harissa – Harissa; Nico Nico – Graphic Artwork; South London Kitchen – Spice Rubs; Nicole Chui – Embroidered Artwork; Our Lovely Goods – Candles; The Steam Room – Designer Prints, T-shirts & Accessories; Pat & Pinky's – Spicy Sauces & Chutney; The Caring Touch – Bath Salts & Soaps; Karlie Wu – Art Prints; Himani J Weir – Art Prints; Justine Formentelli – Art Prints; Nicola J Reid – Sustainable Jewellery; Nadina Ali – T-shirts & Posters; Morleys or Less – Calendar featuring Fake Morleys; Very Puzzled – Children's Map Jigsaw Puzzles; Refugee Café – Handmade Food & Tea by Local Refugees; Singh Twins – Art & Printed Accessories.
Jo is Communications & Media Manager at the Association for Cultural Enterprises.