At 11am on Wednesday 8th July, a full 111 days since closing, the National Gallery finally reopened its doors to welcome the world back declaring itself "open and ready when you are". But what would life inside be like going forward?
We were open, which is great news for the gallery, but what about the shop?  Would the business I've been steadily building become a piece of art in itself?
The period of lockdown was awash with feelings of uncertainty, anxiety and trepidation – When will we open? How will things change? Will we feel safe at work? Will people even visit once we open and if they do, will they shop? Almost immediately after closure ideas were forming of what the post-lockdown experience would look like. Remobilisation teams formed, Comms meetings were scheduled, and Risk Assessments compiled. At the heart of these plans was the visitor, what would they need to see in place in order to feel safe enough to visit, how do we make the experience feel "normal" and crucially how do we continue to generate revenue in these extraordinary times?
In the weeks that followed we mobilised. One way routes were set up, screens put in place at cash desks, PPE supplies ordered, websites redesigned and the shop, normally one of three but now going solo, remerchandised to reflect the anticipated change in visitor demographic and the requirement to consolidate three locations worth of stock into one place.  We were ready, the nerves were building and finally the announcement came, we could and would be reopening, and from the moment those doors opened the feelings of uncertainty were replaced with excitement, ambition and hope. 
Any doubts soon faded. Compared to hours in a queue for flour, days waiting for the announcement that normality (whatever that is anymore) could resume, and signs that life was slowly getting better brought visitors back in their droves. It was time to reconnect with what we had lost and to move forward and the National Gallery was at the forefront of that recovery. Yes, things are different – spontaneous day trips, drop ins and crowds of tourists are replaced with pre-booked timed tickets and restricted capacities. We were open, which is great news for the gallery, but what about the shop?  Would the business I've been steadily building become a piece of art in itself? A snapshot of what shops used to look like, gathering dust rather than the thriving retail business we once were? 
Conversion levels have never been higher and ATV and SPV are hitting record levels
Well I couldn't have been more wrong, and if you know me, I don't admit that often. Whilst fewer, the visitors are here because they care. Gone are the days of popping into to see a Monet during lunch, meandering through the galleries and maybe, just maybe popping onto the shop to kill time. Pre-booked visits mean visitors are here because they want to be, they have made a conscious choice to visit, and in turn, support the gallery. They also want a treat, something special from their much-needed day out – often their first in months. It is a joy to be back, the energy and enthusiasm of visitors coming through the shop's doors (and it helped that the shop was the exit) have been infectious, the excitement of being somewhere other than the supermarket is palpable and thus far they are showing they care with their credit cards. Conversion levels have never been higher and ATV and SPV are hitting record levels – yes this is with heavily reduced visitors, but the positive signs are there
As we come to the end of the third week since reopening, I think back to this time last year, a time spent reflecting on the lessons learnt from another successful summer's trade and eagerly developing the business plan for the year to come. Who could have foreseen the many challenges we have been faced with since then? This last few months have been my most difficult as Head of Retail at NG and probably of my whole retail career. That said, I can sit back now, 3 weeks into the "new normal", and celebrate what has been achieved during the weeks following those dark days of closure and look forward with tentative hope of life beyond lockdown here at the National Gallery. Suddenly something deemed non-essential has become the exact opposite and it is from here that we can shape our future and start to take those all-important tentative steps forward.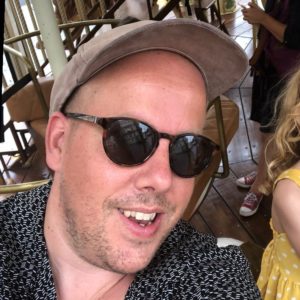 Mark Middleton is Head of Retail Operations at The National Gallery Company. Mark has over 15 years of Retail Management experience within both the high street and cultural sector including senior roles with H&M, River Island and NGC. Within his current role he is responsible for the continued success of the National Gallery Retail offer through the development, implementation and promotion of the brand and sales culture to the retail sales team, and beyond, in order to exceed sales and KPI targets in line with the Company's strategy and values.