Locking the main doors of Beamish Museum is a job that I do at the end of every working day, smiling and saying goodbye to visitors, knowing that I will be reopening the same doors early the next morning. Closing the doors on the 20th March 2020 was a totally different experience, not to mention doing it twice more in November and December.
Leading the Visitor Welcome Team during a global pandemic has been a challenging yet surprisingly inspiring experience, not least because of the physical adaptations we have had to make as a museum, but also because of the emotional effects the pandemic has had on the team.
We have had to overcome obstacles, which, prior to Covid-19, we would never have dreamed of. Imagine: talking through a glass screen to visitors wearing face coverings, dogs barking and excitable children shouting, all while you are trying to take customer details for tickets. But we did overcome them. And became stronger as a result, as I'm sure many museums and organisations across the country did too.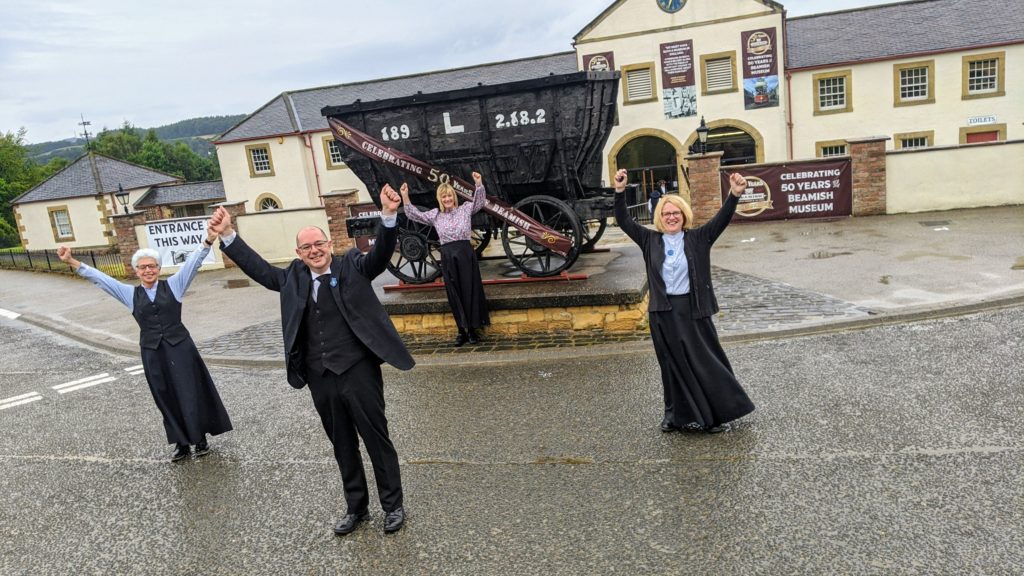 We developed new ways of working, implementing one-way systems, timed entry slots and reduced visitor capacity. All designed to keep the visitors and our staff and volunteers safe. We revamped our visitor signage, identifying the changes that visitors will experience – including advising them that "we no longer accept pounds, shillings or pence – we're teaching the Edwardians how to use contactless"! During the first few weeks of reopening, we learnt many new lessons and were reminded of the importance of managing the visitor's expectations.
The Entrance team is a vital cog in any museum's well-oiled machine, often being the first impression and first port of call for information. At Beamish, under normal, 'pre-pandemic' circumstances, upon arrival we would describe to visitors what to expect during their visit – immerse yourself in history, take in the sounds, smells, and even tastes of the past. However, now, we were explaining that we would like them to wear face coverings, advising them to stay two metres apart and reminding them to sanitise their hands. Despite all the new information we had to provide and the restrictions we were bound by, it was vital that our excellent customer service did not falter – so behind our face coverings we certainly learnt how to smile with our eyes!
There are never two days the same when working in a front of house team and never more so than during a global pandemic. As I'm sure many of you will agree, these teams are brilliant adapters, forward thinkers, and a calming influence during what can often be stressful situations. I am so proud of how Beamish has adapted during the past 18 months and how the cultural sector has pulled together to support each other under the most difficult of circumstances.
This piece was originally published on the Association for Independent Museum's website.
Emily Hope is the Visitor Welcome and Retail (Gift Shop) Team Leader at Beamish Museum, The Living Museum of the North and a board member at the Association of Independent Museums.