Issues concerning climate change and environmental sustainability are increasingly coming to the fore in society, and this is having a profound effect on the museum sector.
The most high-profile public manifestation of this has been the Extinction Rebellion protests which have occupied the streets and public spaces around the UK in recent months. One of the most iconic images from these demonstrations was the mass 'die in' at the Natural History Museum, producing a series of striking images that featured in many media broadcasts. The downside was that these images framed the museum (and museums writ large) as passive entities in the climate crisis – the place where (in) action will be commemorated.
A more dynamic example of the role of cultural bodies in the climate debate was painted around the same time. On 6 April, Culture Declares Emergency was established by culture sector professionals encouraging their colleagues and organisations to acknowledge and act on climate issues. In the first wave of declarations 190 cultural organisations – from museums to arts centres to orchestras – signed on to the message. More museums have since declared, most notably the Tate.
Museums, particularly the nationals, have been working to minimise their carbon footprint. These have been mainly concerned with facilities, with the British Museum, for example, moving to greener energy sources and environmentally conscious landscaping. However, the Tate's Declaration – issued by Press Release on 17 July – moved the conversation about sustainability in a more holistic direction making fundamental, long-term changes that will apply to all aspects of their museum operations: "We will interrogate our systems, our values and our programmes, and look for ways to become more adaptive and responsible." These include exhibition, staff travel and more sustainable options in the restaurant.
An aspect not mentioned in the press release – which will be conspicuous to readers of this blog is the role that the museum shop has to play in the Tate's sustainability efforts and in those of the sector more broadly. The appeal of the museum retailing is its novelty and uniqueness, and there are undoubtedly exciting opportunities to offer visitors ways to engage with a site or specific exhibition through products that are more environmentally conscious or promote such qualities. However, the primary purpose of the shop is to generate income, and a general truism is that sustainable products are more expensive, prospectively leading to diminished revenues, something that may be particularly difficult for many museums to contemplate in the context of the current funding circumstances facing the sector.
Part of the problem is that the extent to which consumers are willing to pay more for sustainable products is unclear. In a 2018 report, McKinsey & Company outlined limitation of a 'sustainability premium' by product types. However, a number of other reports have highlighted that receptiveness to ideas of sustainability is generational. A recent study by Nielsen referred to 2018 as the year of the 'influential sustainable consumer' noting of US consumers that Millennials (born mid 1980s – mid 1990s) are significantly more likely than Baby Boomers (1946 – 1964) to change their shopping habits in relation to these issues. Similarly, CGS noted that Millennials and Gen Z (mid-1990s – present) place significantly more importance on the environmental impact of their purchases. While the engagement of these generations may be heartening, the difficulty is that for many museums these demographics do not necessarily constitute their core visitorship. In this light, approaches to environmental sustainability may be viewed as a step towards long-term resource stewardship, but also as strategic preparation for museum retailers to capitalise as younger museum audiences mature.
Many museums have already begun to take steps to address sustainability issues. Eliminating single use plastics such as disposable water bottles and plastic bags (and their replacement with sustainable alternatives) has been introduced by a number of museums. As noted in the Association for Cultural Enterprises e-newsletter in May, the Horniman Museum, London, has recently moved towards the sale of canned water as part of a wider sustainability drive with much success.
But the Climate Crisis also creates a space for more radical thinking about the way in which the gallery and shop interrelate to produce a more holistic, coherent museum experience. Climate change and sustainability messages in exhibition spaces can be carried through to the shop, allowing visitors to connect with and participate directly in the topic at hand. More broadly, we might also explore opportunities to invigorate connections between museum and local producers, both reducing the carbon footprint of products while turning the shop into a site that spurs and sells local creativity.
The question, therefore, is how initiatives promoting environmental sustainability can be put into effect in the museum shop in a practical sense. Broken down, we might ask what kinds of sustainable products are popular with audiences? In what ways will this influence the visitor experience? And how can we measure the improvements made to be able to communicate them at the organisational and policy level? One of the guiding principles laid out by Culture Declares Emergency is that actions on environmental sustainability will look different for each organisation. So how can we think, individually and collectively, about broader goals, strategies and methods?
To attempt to develop some response to these issues, I am developing a research project on this area over the coming year, with the intention to disseminate findings to the Association for Cultural Enterprises membership. In the first instance I am eager to hear from practitioners about successes and challenges in terms of developing sustainable approaches. The second aim is to develop a series of methods – such as sustainability audits – that can better help shop managers quantify and communicate the impact of the changes they implement.
Climate change and environmental sustainability are increasingly assuming an important position in the sector; this is an area that all museums will have to reckon with in some capacity in the near future. It is crucial for museums to get ahead of the curve and provide leadership in this area, and the museum shop is a clear forum in which important change can happen.
For an informal discussion about the research objectives or to participate in the research, please contact Dr. Jamie Larkin at jlarkin@chapman.edu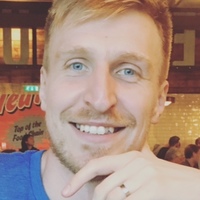 Dr. Jamie Larkin is Assistant Professor of Creative and Cultural Industries at Chapman University, California. His research focuses on issues surrounding culture and commerce in relation to museums. Following his PhD at University College London - which examined the history, theory and practice of museum shops - he has held positions at Birkbeck, University of London, and the University of Bergamo, Italy.