Opened in December 2021, the Family Kitchen Shop and Restaurant at Royal Botanic Gardens Kew offers families a place to shop, eat and engage with the natural world, learning more about where food comes from and discovering the important role that plants and fungi play in our lives.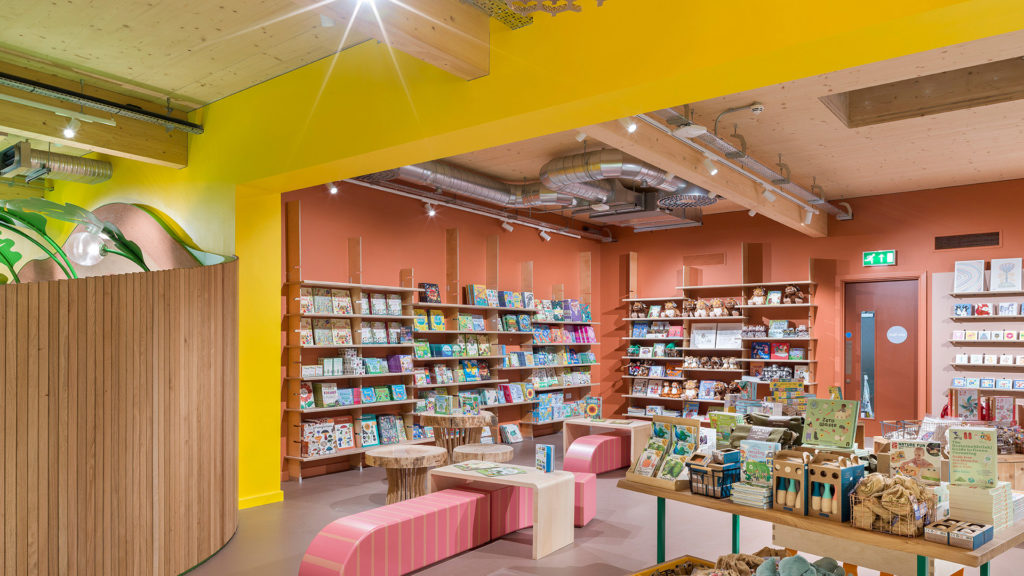 Designed by Lumsden Design, the new shop has sustainability threaded through every aspect, making it the deserving winner of the Cultural Enterprises Sustainability Award earlier this year. As Retail and eCommerce Operations Officer Emma Sinclair explains, sustainability was the key consideration when conceiving and creating everything related to the project and space.
"The building was designed to help reach the Royal Botanic Gardens commitment of going beyond achieving net zero carbon emissions and to be climate positive by 2030. The building is constructed in timber, includes 71 photovoltaic roof panels generating 30 megawatt hours of electricity per annum, is BREEAM (Building Research Establishment's Environmental Assessment Method) Excellent and approximately 80% of the hot water used in the building is heated using heat recycled from the front of house areas, shop and kitchen.
"Kew Gardens for many is a place that celebrates learning and nature, inspiring a younger generation to discover the important role that plants and fungi play in all our lives. With the new shop space, we wanted to reflect these beliefs whilst creating a vibrant, welcoming and colourful environment for all to shop, learn and enjoy.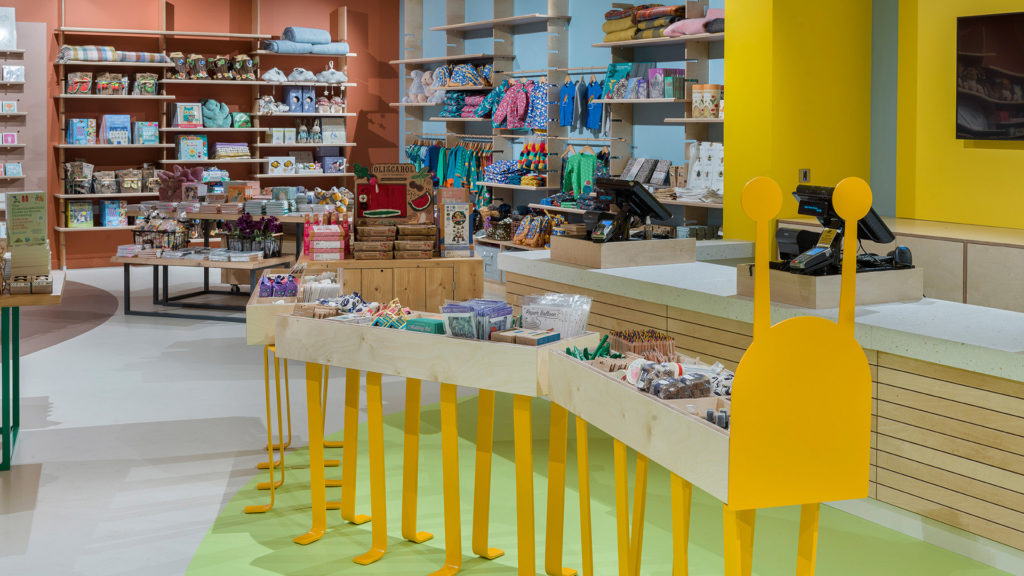 "The first thing you notice when you enter are the brightly coloured zones which reflect the six key multi-sensory learning zones in the space – Diversity, Autumn, Science, Water, Sun and Spring. We reflected these zones within the shop through vinyl shapes and playful display units to denote the different areas. Fixtures in the shop celebrate sustainability and materiality whilst also being welcoming and engaging. FSC Wood is utilised throughout, and the multicoloured tables resemble ants and beetles which have inspired some of the key product ranges within the space, making for creative and eye-catching visual merchandising.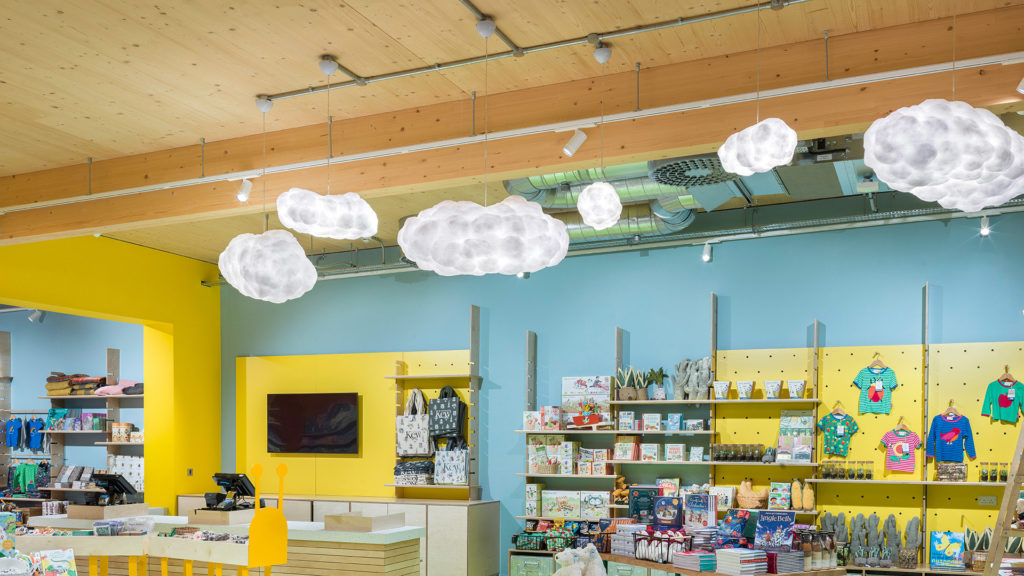 "We created a reading area in the Books section featuring many of our well-known Kew publishing titles and a giant pink earthworm bench which customers young and old love sitting on to read or capture a family selfie! The lighting in the space is also a talking point – fluffy cloud lights hang above you as you enter, and a recycled cardboard honeycomb pendant light that mimics Kew's iconic Hive installation is the centrepiece. The till countertop is made from recycled yoghurt pots creating a unique marble style material with flecks of paper and metallic foil running through it and there are sculptural mushroom shaped tables made from trees felled at Kew Gardens during Arboretum maintenance across the space.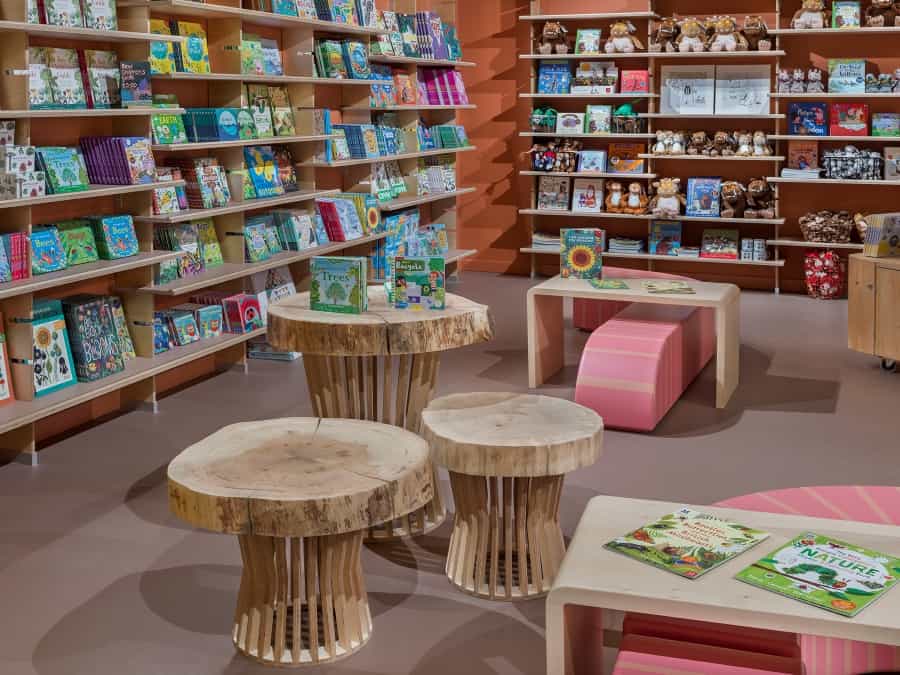 "All ranges for the shop were purchased using our Ethical and Environmental Sourcing Policy, ensuring all suppliers stocked at Kew meet required standards. We took the decision to move away from plastic and instead opted for FSC approved wooden toys which last longer and align with objectives outlined in our 2021 organisational Sustainability Strategy. We introduced a children's gardening range to inspire a new generation of horticulturalists, including seed tins to grow your own, easy care house plants, colourful children's gardening tools and plant pots made from recycled plastic, produced with wind energy. Our popular Bees of Kew, Bugs and Beetles range also expanded in keeping with the shop theming and was particularly popular during the April 2022 Easter Bank Holiday Family Programme for The Very Hungry Caterpillar by Eric Carle.
"We also partnered with sustainable clothing company Frugi on their SS22 collection featuring colourful, fun prints inspired by flowers that bloom in spring. 90% of the range featured GOTS certified organic cotton alongside sustainable or recycled materials and extendable cuffs, waistbands and shoulder straps, which grow with the child to avoid having to purchase larger sizes so regularly.

"To date, we have seen a considerable increase in customer conversion compared with the former White Peaks children shop. We believe this can be attributed to the shop's imaginative and inspiring look and feel and product offerings that reflect our core values with varied price architecture for broad appeal. The shop has also been an incredibly popular addition to our Christmas at Kew lights trail, offering an alternative family offer for those visiting with younger children and families."
A vibrant, interactive and fun place to shop with sustainability threaded through every aspect of the design and ranges.

The Judges, Cultural Enterprises Awards
With thanks to Emma and all the team at Royal Botanic Gardens Kew. Find out more at kew.org and don't forget to visit the fabulous online shop for gorgeous gifts and homewares.
Jo is Communications & Media Manager at the Association for Cultural Enterprises.